I believe fitness is possible for everyone and these feasible – yet POWERFUL – tips work for super busy people! First, let's define what 'fitness' is. The dictionary tells us this:
fit·ness   noun 
the condition of being physically fit and healthy
the quality of being suitable to fulfill a particular role or task
My personal definition of fitness is: freedom to trust my strength and go on adventures! I used to spend way too much time coming up with ultra-complex programming for myself and my clients. While programming towards goals is important, the following three tips get results fast due to simplicity. Simplicity ALWAYS wins!
Tip #1: Start with 5 Minutes
Exercising for hours on end is not necessary to reap the benefits! Plus, if your days are currently packed and you're just getting started, how discouraging is it to think you have to go to the gym for an hour every day? Start with scheduling five minutes ( Click here for a playlist of 5 Minute Workouts ). Do it now; I'll wait! It's amazing what 5 minutes of giving time to yourself can do – especially on those crazy busy days or the days you just don't feel like it! Those days will happen and now you have a plan for them!
If you're feeling skeptical, I get it! Take if from one of my all-star clients, ✨Jen✨:
My name is Jen. I'm a single mother, I work full time as a High School teacher and to top it off, I've been doing my Graduate degree for the past two years. Life has been hectic and it started to take a toll on my health. Approximately two years ago, I noticed Katie Hunt's posts about her workout videos and I thought I'd give them a try. What I liked right away as a busy, working mom, was that they were short, sweet and to the point. In other words, they were about 5 minutes long, Katie gave encouraging words, and they were quality – this means that they got my muscles working and blood flowing in just 2-3 exercises! At first, I recall having trouble getting through them, but with my determination to be better and with Katie's encouraging words, I kept trying. Finally, she had a 21 day challenge and I joined. It was the best decision I've ever made in terms of all-around health and fitness. It was truly the catalyst for me to make many other healthier lifestyle choices in my nutrition, rest, mindset, and even in my relationships! I'm engaged to a wonderful man, make goals to get my work done so that I can play with our kids, schedule rest and mindset boosters and even became more conscientious about what I put into my body! I decided to join her challenge group through the end of 2017 and for the value of what I get, I would join again in a heartbeat for 2018! Her group is rewarding, challenging, forgiving and, the best part – realistic! I think that Katie Hunt is really onto something and I truly believe that every person can benefit from her videos, challenge groups and personalized training! Thank you from the bottom of my heart Katie!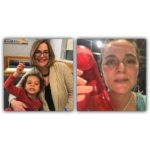 Tip #2: Find the FUN
Having fun is a major stress reliever. This is backed up by scientific evidence! A good laugh stimulates your heart, lungs, muscles and boosts your endorphins! When your endorphins increase, stress decreases along with your blood pressure and heart rate. In addition, laughter eases tension throughout the body. I'm always saying that laughter is the best ab workout and it's true! Adding some fun movement to your workout 'routine' is one of the best ways to achieve your fitness goals.
Here are some five ideas to add a  blast of fun to your workout:
Turn up your favorite songs! I keep mood-boosting playlist updated on Apple Music – you can access it HERE.
BYOB – not booze, silly, bring your own BUDDY! Having a friend join you is a surefire way to make working out more fun.
Reward yourself! One of my clients treats herself to an iced tea after her workouts. It's an inexpensive, low calorie treat that keeps her motivated to get through each session.
Play games! Join a team or make your individual workout into a game. For example, bring a set of dice and assign an exercise to each number. Roll again and multiply by two to determine how many reps of the exercise you'll do!
Shorten the time! Your workouts do not have to be an hour long slog. Try 30 minutes of working for 45 seconds and resting for 15 on various exercises. Time will fly!
Want more ideas? My 90 Day Challenge group features FUN Fridays! Get details and sign up here:
Tip #3: SUPPORT SUPPORT SUPPORT
Did I mention support? Having a workout buddy team is like having an insurance policy. It's that push you need mid-workout to finish the final reps and support for workout compliance. I mean, we're all way less likely to skip if our bestie or Personal Trainer is waiting for us, right? Plus, outside of the gym you'll have someone who understands and supports your goals and mission. Even something as simple as joining a group class or an online fitness challenge group can be just the nudge you need to keep moving toward your fitness dreams.
Alright, let's get to it – take the next five minutes and have some fun with a buddy! Tell us what you did in a comment below!
xoxo,
Katie