If you assume I've been athletic all my life because I'm a personal trainer, I bet you'd never guess my reason why. I remember it clearly, being in middle school and racking my brain for reasons to get out of gym class. It'd be impossible to count how many times I told my gym teacher I couldn't participate because I had my period.  I remember the fear of being picked last for the team, ducking instead of trying to hit the volleyball and, most viscerally, the shame that came with not being athletic.
I lived this way for 28 years of my life.
All those feelings and fear stuck with me into my 20's. I remember getting dragged to a yoga class with my friend Cassie after college. The yoga instructor called out my 'lazy arms' in front of the entire room. In fact, she had the whole class look at me to learn what not to do! Ugh; I'll never forget the feeling of my face blazing red and tears in my eyes.
Lucky for me, years later, I went to an incredibly welcoming Cycling class at the Downtown Milwaukee Y with an instructor, Dori, who changed my path. She spotted my new kid nerves immediately, sat me next to her sister, told me I could do while looking me in the eye and also encouraged me to make it my own. Your body, your class. Dori, if you're reading this, I will never be able to thank you enough. ?? It was this exact day that I knew my WHY was to make people feel the way Dori made me feel.
If you're feeling uncomfortable about moving your body, especially in a public place, I. FEEL. YOU.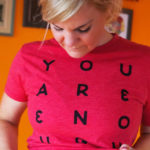 In fact, I feel you so hard, I get squirmy just typing these sentences and sharing my stories with you. But I'm also excited to tell you there is hope.
You might look at me now and think those days of sitting on the sidelines are over. Maybe you see me as one of those gym rats who can do anything, isn't afraid to take classes and feels like the gym is her second home. But I can tell you I'm not.
In the past decade, I've developed a habit of pushing myself to try at least one new class, at a new gym, every month. I do this to stay connected to that feeling of being scared, nervous and the 'new kid'. I do it to relearn, over and over again, what steps will help a 'new kid' that comes to see me or works with me online. While I feel like I'm a master of pushing through that fear, I can tell you it never goes away. You just get better at handling it like a boss.
Truthfully, I don't want to be disassociated from that anxious feeling before entering a new gym.
I feel like there are a lot of you out there that feel just like I do in a new setting. Your feelings are valid, I respect them and, most importantly, I care about creating a safe place for you whether you're working with me in person or online.
So, if you're ready to start the epic journey of taking care of your brain and body but it feels overwhelming and scary, I created my 90 Day Mindset & Muscle online challenge with you in mind. This step-by-step plan is for YOU, if you prefer to start your ✨super exciting, life changing, magical✨ journey from the comfort of home.
What is the program exactly?
The 90 Day Mindset & Muscle challenge is a program designed to help you ditch inconsistency and and get the boomin' energy, self-lovin' mindset and strong muscles you want FOR GOOD.
You'll get Monday – Friday challenges, home workouts, mindset mastery training, daily check-ins from yours truly and heaps of other cool stuff – all in doable 15 minute chunks! <—-best part! It's DOABLE! Plus, it's all delivered via Facebook group and the group is SECRET! No one other than your awesome teammates can see what you post or like or do. No jerks allowed! It works. An energized life is possible.
You can do this. All you have to do is make one decision today – saying yes. Yes to you. Yes to taking a risk. Yes to saying the time is now. Your revitalized brain and body are waiting!!! Your step-by-step plan is waiting! Your teammates are there to cheer you on! The doors are only open 4x year and our Spring Forward edition kicks off 4/1! Ahhhh!!! There are even bonuses if you sign up by 3/25!
Sign up and know that you're about to go from overwhelmed and meandering to focused and energized – just like I did! Click HERE to grab your spot.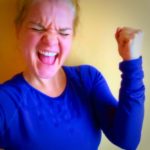 Space is limited! I can only take on 10 new people per session, as it's important that I get to know you!
If now's not the time, I encourage you to get out there and try something new. And tell me about what you do! Take that step! I am cheering you on! As you can see from my story, taking one step can change your whole life.
Thank you for reading and all my love, a big hug and high five, friend. You are strong and capable and your life is yours to create.
xoxo,
Katie